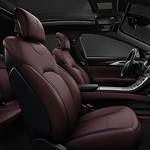 In the world of luxury vehicles, the popular Lincoln MKZ midsize luxury sedan is known for its comfort and style. However, you may be surprised to know that the Lincoln MKZ is also one of the top performers in its class. Here's a look at two amazing performance features of the Lincoln MKZ.
The Lincoln MKZ offers a top-performing twin-turbocharged V-6 engine that provides up to 400 horsepower. This exceptional engine is able the MKZ from 0 to 60 miles per hour in 5.2 seconds. To allow you to get the most from each of your drives, the MKZ also offers a Sports Turned Suspension that gives you an incredible driving experience. Overall, the MKZ provides you with an incredible level of luxury and performance.
We invite you to take a test drive of the Lincoln MKZ. At Fox Grand Traverse Lincoln, we offer a collection of Lincoln MKZ luxury sedans in the Traverse City area. Visit us today.