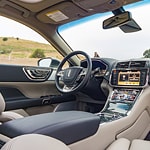 For a luxury car that truly performs like one, you ought to try the Lincoln Continental at least once. This dazzling powerhouse exudes masterful mystique, and it uniquely excels when it comes to refined specs. To usher unbelievable power behind the wheel, this is the aficionado's go-to ride.
With Dynamic Torque Vectoring, the distribution of force is intuitively applied, which makes for sublime cornering. These incredible turning ratios can transform your application of speed and unlock new levels of acceleration. The phenomenal pace is somehow both swift and elegant.
Another revolutionary innovation is available through Auto Hold. While activated, this game-changing mechanism knows when to hold the brakes during a stop, and it will conveniently lock them in place until the moment you press down on the accelerator. All it takes is one time to be sold on this extraordinary automobile, so arrange your date with destiny by going for a test drive via Fox Grand Traverse Lincoln.