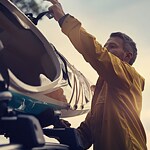 Are you looking to pack for a big road trip? Then you will want to know how to use your vehicle's roof rack. At Fox Grand Traverse Lincoln, we always like to offer easy-to-follow tips on how to get the most from your vehicle. Here is how you can easily use your roof rack for cargo storage.
The first thing you will want to do is make sure that the items will fit on your roof. Specifically, make sure the items can fit within the roof rack itself. Next, pack your items in a weatherproof box or bag. After that, place the items on the roof, making sure that everything is evenly distributed. Finally, secure all the items include place with cam buckles.
To make sure that your vehicle is in top condition, we are offering top service at Fox Grand Traverse Lincoln. From oil changes to tire rotations, our fully-staffed service department can get it all done fast. Visit us today.