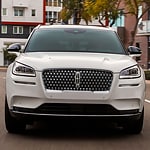 The Lincoln Corsair is the elegant compact luxury SUV that knows how to look good inside and out. That's because there has been special attention paid to the SUVs design. Let's discover which design features are not available on the Lincoln Corsair.
The Corsair is one of the only luxury SUVs on the market that offers a unique piano key shifter. This shifter allows you to place the vehicle into park or drive at the touch of a chrome finished button on the center console. It's one of the easiest ways to shift an SUV into gear.
Also, the Corsair offers one of the most attractive ambient lighting systems available. You can set the color to define your mood and really set the tone of your evening drivers. These are two of many excellent design features on the current Lincoln Corsair.