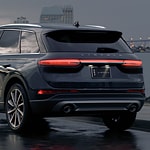 The Lincoln Corsair is the compact, luxury SUV that brings you more design features than other vehicles in its class. That's because design makes all the difference when it comes to the luxury driving experience. Here are two of the most impressive design features of the current Lincoln Corsair.
With the Corsair, you never have to struggle to find the perfect seating position. In fact, the driver's seat gives you 24-way power adjustments. You can find adjustments for every part of your body from your head and neck to your back and your thighs. You will never feel more comfortable inside a compact, luxury SUV.
The Corsair also makes your life easier when it comes to the little things. For instance, the Corsair has created a floating center console design that allows you to place your smartphone design right in the center console area.