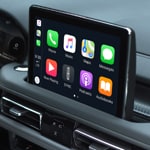 The Lincoln Aviator comes with stylish designs both inside and outside. These advanced features make it a unique SUV that stand out from its rivals. The Lincoln aviator has a sleek design, a comfortable cabin, and a pair of strong powertrains under the hood. Its compact size and mid-size proportions make it a more versatile SUV.
It also features an innovative technology called the Lincoln Embrace that senses when you approach the vehicle, combined with an approach detection system that comes standard with the Lincoln Aviator. With the Phone as A Key feature, the Lincoln Aviator recognizes your key fob or phone when it is within detectable range.
A brilliant display of welcoming lighting welcomes you in the front back and the interior. The Air Glide suspension, which is available on some models lowers the vehicle's height to make getting in and out of the vehicle simpler. These convenience features make the SUV an ideal vehicle and offer an enjoyable ride.