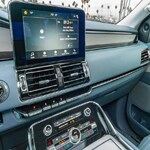 If you're looking to spend time in a classy and elegant vehicle, the 2022 Lincoln Navigator L has a high level of refinement with leather upholstery and supportive seats. The interior design boasts a head-up display where you can view the different settings and features of the SUV all in one place. Three rows of seats are present, making it easy to fit more people throughout the cabin.
There's an abundance of wood accents, which are classy and create a handsome setting. Multiple storage compartments are present throughout the cabin, which are useful for storing your items and still having easy access to them in the vehicle. The second row also has a deep console for storing additional items.
Infotainment screens are available for added entertainment options for passengers to enjoy in the back. A sleek infotainment screen is also present on the dashboard and is within access of the driver's seat.