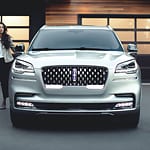 If you're looking for a car that offers luxury and performance, the new Lincoln Aviator is a perfect choice. This vehicle was designed with the modern driver in mind, and it features some of the latest technology available. Let us look at some of the performance features that make this car so special.
-Twin-turbocharged V-six engine: This engine offers an impressive amount of power, and it's also very efficient.
-Adaptive suspension system: The Aviator's suspension system is designed to provide a smooth ride, no matter what the road conditions are like.
-All-wheel drive: This feature ensures that you have traction no matter what the weather conditions are like.
-22-inch wheels: These wheels provide a stylish look and also improve handling. They also make the Aviator look very modern.
-Active noise cancellation: This feature ensures that you enjoy a peaceful ride, even when the engine is running.